Radon is a noble and radioactive, colourless, tasteless and odourless gas that was discovered in 1988 and that is generated mainly by the disintegration of uranium. Radon spreads very quickly in the air and reaches high floors via building materials, cracks, hollow spaces, pipes and drains: it is classified by the WHO as a first-class carcinogen.
The gas primarily dissipates from the soil and then spreads in very low concentrations in the environment, but, when it penetrates a building, its contamination increases and can reach levels of hundreds or, rather rarely, thousands of Bq/m3. About half of the radiation, we absorb during our lifetime derives from this gas.
REGULATORY FRAMEWORK
Decree-law 81/08 Chapter VIII – PHYSICAL AGENTS, art. 180 para. 3, provides that the protection of workers from ionising radiation is governed exclusively by Decree-law 230 dated March 17, 1995, which requires that the concentration of Radon is measured in all workplaces located underground and in workplaces (situated on any floor) located in geographical areas where the risks due to Radon is very high.
IMPACTS ON HEALTH
Damage caused by exposure to Radon is generally repaired by biological processes. In some cases, the ionising radiation emitted by the offspring of Radon, which attaches to inhaled particles, kills the cells, but, the probability of degenerative cell damage and that the cell preserves its reproductive capacity and thereby contributes to a possible cancer is very low.
The track of alpha radiation is very short, so that the damage of other organs is not possible and the only real potential risk is lung cancer. Radon has therefore proved to be a carcinogen. In Italy, about 5 to 20% of all lung cancers are estimated to be caused by radon, the remaining 80-95% by cigarette smoking.
The risk of developing lung cancer increases with higher concentrations of Radon gas, longer exposure times and, most of all, when combined with cigarette smoking.
MEASUREMENTS
The concentration of Radon gas can be determined by comparing it with the reference levels recommended by the main international bodies, such as the World Health Organization – WHO that recommends a reference level between 1" and 300 Bq/m3 and the International Commission for a Radiological Protection – ICRP that recommends a reference level up to maximum 300 Bq/m3.
TARGET GROUP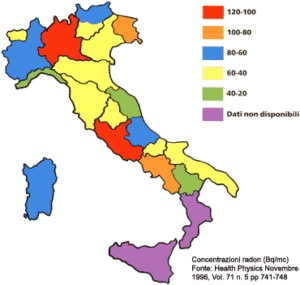 The existing legislation regarding the protection against ionising radiation, decree-law 230/95 and its subsequent amendments, also regulates work performed in places underground in order to protect workers from risks due to exposure to natural radioactivity.  In order to use such places as workplaces, the restrictions and limitations set by municipal regulations with regard to buildings and/or hygiene, branch regulations (e.g. schools) and general occupational hygiene regulations must be taken into account.
Underground workplaces can frequently be found in the following situations public institutions, museums, hospitals, cafeterias, credit institutes, and less frequently in other areas such as offices, doctors' offices, workshops and in industrial branches.
HOW DOES ECO NEXT WORK
With qualified technicians and experts, ECO Next offers instrumental measurements and the preparation of technical documents with regard to Radon Gas all over Italy.